Vinyl decals can be applied to: Vehicle Windows, Vehicle Body Surfaces, Toolboxes, Plastic Cups, Surfboards,  iPads, Skateboards, Tablets, Mirrors, Mobile Phones, Laptop Cases, Desktop Computer Towers, Helmets, Hard Hats, Walls, Smooth Painted Surfaces, Store Windows, Plastic Boxes, Lockers, Doors, Laminate Surfaces or just about any surface that is smooth and clean!
Vinyl decals are made with high quality Oracal 651 vinyl which is rated for outdoor exposure for 6-7 years. If you wish your decal as wall art I can use Oracal 631 by request. 631 vinyl has less adhesive and is easier to remove without removing chunks of your drywall.
Vinyl decals are cut to order (I don't stock). Decals are typically cut and shipped within 1-4 days depending on season and workload. (Most are within 24-48 hours)
Shipping Shipping varies on the product you order. Decals are a flat $3.10 for any amount of decals you order.
If you purchase multiple types of items you may have 2 shipping charges. All Vinyl Decals, Water bottles and Wood Shop items are done in house and would be under one shipment. All other items (clothing, Mugs, etc) are printed and shipped from our printers in CA and NC.
All vinyl decals are shipped sandwiched between thick cardboard and in weather resistant polly mailers. Decals with a side longer than 13″ will be shipped in a mailing tube.
Shipments are made daily Monday-Friday.
Returns Due to the custom nature, and that they are created upon ordering, we do not take returns unless we made a mistake in your order. If thats the case we will do what we can to make in right.
See Your Vinyl Decal, Birth to Shipping
Vinyl Colors in stock are shown on each product page as part of the shopping cart choices. I do have access to other colors shown in the chart below. Just ask and I will order that color (may delay order by a couple days)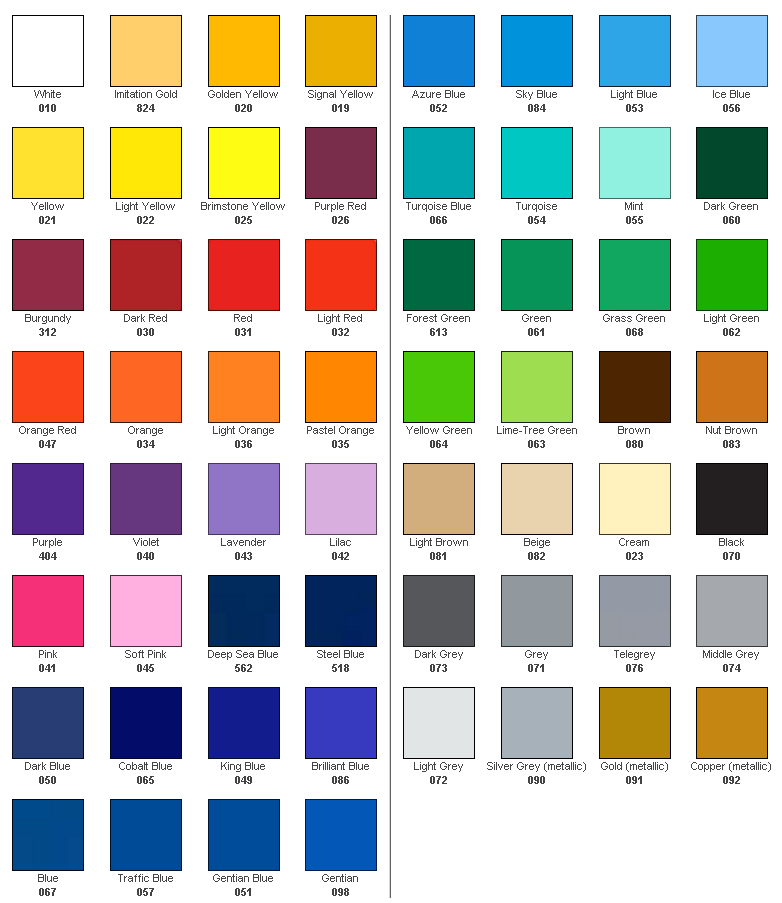 New ** Vinyl Glitter Colors We are bringing in glitter vinyl in limited supplies right now, as orders come in and we see where the demand is at we will bring in larger quantities. Till then there might be the occasional delay as we may need to order your color (takes 2-3 days to come in if we do). Glitter is mainly for our gift items (water bottles, tumblers and cups) but will be happy to use on special request for any decal